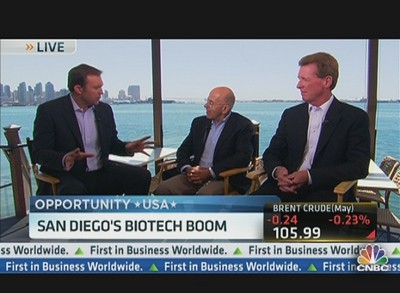 Last month, Jack Lief, president and chief executive officer of Arena Pharmaceuticals, appeared on CNBC to discuss San Diego as a hub for biotech innovation as well as Arena's pipeline of novel drug candidates. San Diego-based Arena successfully advanced its weight management drug, BELVIQ, through FDA approval last year, and  recently announced that BELVIQ will be available to patients in June.
BELVIQ was approved for use as an adjunct to a reduced-calorie diet and increased physical activity in adult patients with an initial body mass index of 30 kg/m2 or greater (obese), or 27 kg/m2 or greater (overweight) in the presence of at least one weight-related comorbid condition, such as hypertension or type II diabetes. This month, Arena announced that the US Drug Enforcement Administration's (DEA) final rule placed BELVIQ into Schedule IV of the Controlled Substances Act, which allows the drug to be sold 30 days after the approval is published. Following this date, Arena will receive $65 million in milestone payments from its partner Eisai Inc. who will market BELVIQ in the US.
Obesity has reached epidemic proportions in the United States, with currently a third of Americans defined as obese. This number is expected to rise, leading to a need for effective therapeutics to treat this patient population. Three double-blind, randomized, placebo-controlled trials demonstrated that BELVIQ along with diet and exercise was more effective than diet and exercise alone at helping patients lose 5 percent or more of their body weight after one year and managing the weight loss for up to two years.
Russo Partners coordinated activities surrounding the taping of the CNBC segment, including preparing Mr. Lief for the interview. Below is a clip of the interview.